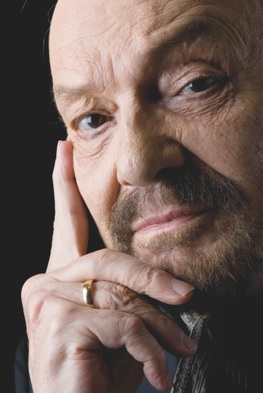 He was born in Montevideo, Uruguay, June 2nd 1933
by Alicia De Ezcurra, argentinian ( great-granddoughter
of Juan Manuel de Rosas and of Stefano Franscini, first
president of Switzerland ) and of Horacio Ferrer, orientalist,
educationist and historian.
In the capital uruguaya he attended the Engineering,
Architecture, Theatre and Music University, founded the
"Club de la Guardia Nueva", and started his studies about
the modern tango; he published his first poem's book and
his first theatrical work, "El tango del alma", for the first time
has been performed.
Afterwards he moved in Buenos Aires, where released his
first
essay "
El tango: su historia y evolución" in 1960
.

In 1967 Astor Piazzolla invited him to write the words for
his musical compositions.
Masterworks such as "María de Buenos Aires, El pueblo
joven (Opera de dos mundos), Balada para mi muerte,
Balada para un loco, La última grela, La bicicleta blanca,
Chiquílin de Bachín, Milonga del trovador, Libertango"

were born.
These are some among the seventy titles musicalized by Astor Piazzolla up to 1990 that have
revolutionized the aesthetic of tango.

Horacio Ferrer wrote then for Raúl Garello, Charles Aznavour, Héctor Stamponi, Daniel Piazzolla,
Jairo, Aníbal Troilo, Domenico Modugno, Julio De Caro e Osvaldo Tarantino.

Since 1953 he published at least ten fundamental books for a modern tango historiography
(among them "El libro del tango - Crónica y Diccionario", of about two thousands pages, and the
complete work in four volumes "Moriré en Buenos Aires"), the poems collections "Romancero
canyengue, Loquita mía, Canciones, Existir, Mil versos a Picasso", more than two hundreds tangos,
the choral poem "París Tango" on Juan José Mosalini's music and three works for musical theatre:
the just mentioned "María de Buenos Aires","El pueblo joven" and "Oratorio Carlos Gardel", on
Horacio Salgán's music performed at Teatro Colón of Buenos Aires, player the same Ferrer.
He recited in all world's theatres and recorded about twenty discs.

In 1990 he was awarded with the "Grand Honour Prize" of Argentinian Authors and Composers
Society; since 1992 he is «Distinguished Citizen of City of Buenos Aires» and Municipality set up
a plaque with his name on the corner between Corrientes and Callao, in the argentinian capital.
He is Honoris Causa Professor at "Universidad del Salvador" of Buenos Aires.
In 1993, at the Poetry International Festival of Rotterdam, public and critics rendered honours
to him with an extraordinary recognition; in 1997, along with Gidon Kremer, won the nomination
to the Grammy Prize for his "María de Buenos Aires".
In 1998 the Honour Medal of Sorbonne University of Paris was bestowed on him and in 1999
he won the Prize to Career of "Fondo Nacional de las Artes" of Argentina.
In 2004 won the nomination to to the Nobel Prize for the Literature.
He is founder and president of "Academia Nacional del Tango" of Repubblica Argentina and
of the corrisponding branches detached in France, Spain, Belgium, Netherlands, Germany, Italy,
Sweden, Chile, Cuba, Mexico, Brasil and, in Argentina, in the cities of Cordoba, Mar del Plata,
Quilmes, Rosario and Bahía Blanca.
In 2009 has been released "Loca ella y loco yo" (ed. Liberodiscrivere), first antology of his poems
translated in italian and in the same year he was awarded the "Premio Tenco" for cultural merits.
Next publication will be the monumental book "Biblia del Tango".

He is married with the painter bonaerenses Lulú Michelli.